Vegors Cemetary
Monday to Friday: 9.00am/5.00pm
Saturday - Sunday: 9.00am/5.00pm
Closed: Open daily
---
General info
Vegors Cemetery, near Stratford in Webster County was founded in 1849. Located on a ridge near the Boone River, it commands a beautiful view of the valley on the south side. To the north are fields. The entrance road is hard to navigate in bad weather.
Lott, Mrs. Jno. H. Lott, Died Jan. 1849 From Exposure of Indian Raid. First White Woman Settler in Webster Co.
History
"The statrt of the Spirit Lake Massacre of 1857" Lott came upriver in 1847 and built a cabin at what became known as Boone Forks, on the north side of the the junction of the Des Moines and Boone Rivers.. He had come from the Red Rock area where he had a history of having problems with the Indians. He came trading firearms, whiskey, and other things with the Indians for furs. He also managed to steal horses and move them down river, keeping them in caves along the banks, to sell to settlers as far south as Missouri. One time, when Henry and his older son were across the Boone River, the Sioux came to his cabin looking for their horses. Mrs. Lott started screaming and when she stopped, Henry decided that she must be dead so he headed south with his son for Pea's Point in Boone County to seek help from his nearest neighbors. After the Sioux party had taken property from the cabin, they left. Mrs. Lott sent her young son, Milton, aged 12, to find his father. Milton ran 22 miles south along the west side of the Des Moines River in December without a coat. He fell exhausted and froze to death.
When Lott returned with the rescue party, he found Mrs. Lott delirious in the cabin. She told him to go find Milton. They found his body, but since it was winter they could not bury him so they placed him in a hollow log and covered the opening with rocks, returning in the spring to bury him where he was found. Mrs. Lott lingered until January, 1848 when she too died. She was the first white woman to die in this area. In 1911 a monument was constructed in Vegors Cemetery, but her body was never located. It is assumed that she was buried beside their cabin.
Lott and his older son left the area for several years. They returned in 1852 and tracked down the Sioux chief, Sidominadotah, and moved to be near him. One day they went to the chief and invited him to join them to track a huge herd of elk. After they went some distance from the campsite, Lott hung back and shot the chief in the back. Then he cut off the chief's head and hid the body and head in different places. Then after dark, dressed like Indians, they went to the chief's campsite and slaughtered the chief's mother, wife, and four of his children. One young girl ran away and hid. When the murders were discovered ,the Indians went to Major Williams in Fort Dodge for help. Williams declared that Lott had committed the murders. By this time Lott and his son were on their way to California, never to be found again.
Sioux Indian Chief Sidominadotah pictured here was murdered in 1855 by Henry Lott, which percipitated the Spirit Lake Massacre in 1857.
A hearing was held at Homer, conducted by the only lawyer in the area, Granville Burkley. He claimed to understand the Sioux language, but he didn't. No judgment was made, so the Indians left with the body, but Burkley kept the head as evidence. This he hung from a tree in Homer until the wind blew it down. Then Burkley nailed the skull above the door of his cabin, where it stayed for nearly a year. The Indians came back for the skull so it could be buried with the chief. The Indians discussed a retaliation raid on Homer but did not follow through. Sidominadotah had a nephew, a renegade Sioux, named Inkpadutah (sometimes spelled Inkpaduta) who decided to revenge his uncle's death - such act became the Spirit Lake Massacre of 1857.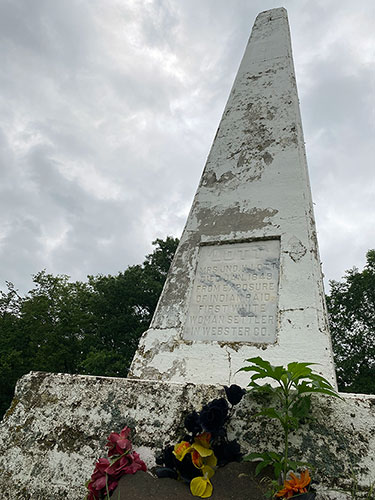 Mrs. Lotts grave at Vegors Cemetary outside of Stratford,Iowa
---
Vegors Cemetary Highlights
1

Indian Mounds

Located in Vegors Cemetary are 5 Indian Mounds.

2

Mrs. Lott Grave Marker

The first white woman settler to die from exposure of an indian attack.

3

Benjamin Bell

Gravesite of Revolutionary War Veteren Benjamin Bell.